Our Ardennes are renowned for the beauty of their pastoral landscapes. The colours of winter add a touch of magic and charm. What a beautiful time to stay and feel rejuvenated during this magical holiday season…
For this festive period, we're pulling out all the stops to offer you moments of fine gastronomy, shared pleasures and well-deserved rest.
Our holiday offers
We offer holiday packages to help you enjoy this magical period without the stress that sometimes accompanies it. From Christmas Eve meals in our starred restaurant to warm and luxurious rooms, everything is set up to contribute to your happiness in this magical time conducive to taking time for yourself.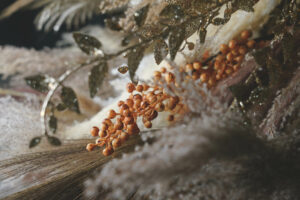 Christmas Eve Takeaway Menu – 24/12
Chef Mathieu Vande Velde and his team have put together a Christmas takeaway menu for you, for a Christmas Eve at home that's all about fine dining… without wasting time getting ready!
Christmas menu in the Lounge
On 25 December around noon, it's the turn of our Brasserie Lounge to welcome you around a 3-course Christmas Menu, a friendly and gourmet appointment !
Price : 60€/p, with free glass of bubbles
Our Brasserie Lounge will be closed on 24/12 evening, 25/12 evening and January 1 at noon.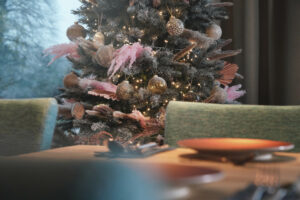 New Year's Eve
Enter the new year, 2024, with us !
Let yourself be seduced by our New Year packages :
A gourmet meal in our starred restaurant, bubbles, music and a night in one of our seductive rooms. The ingredients of a perfect stay…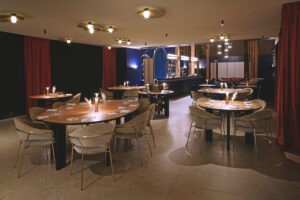 New Year's Sauerkraut
To kick off this new year, we welcome you on the 1st of January evening at the Lounge with a 3-course Sauerkraut Menu, with Pig on the Spit cooked outside by Chef Mathieu !
Price : 60€/p, with free glass of bubbles
To come and live one of these experiences, our reception is at your disposal to answer your questions and book your meal or stay :  +32 80 78 00 00 or via info@roannay.be