Since January 2023, Chef Mathieu Vande Velde welcomes you for a gastronomic cooking class !
On the program, the realization of a 3-course Menu, with the advice of the Chef & his team, followed by the tasting of this Menu accompanied by its amuse-bouche & mignardise, comfortably installed in our starred restaurant (1 Michelin Star).
Next dates & themes :
June 11 from 4pm : Cooking with wood fire
July 9 from 4pm : Vegetable theme, with a visit of the market gardener [SOLD OUT]
August 13 from 4pm : Around the shellfish

Price: 150€/class, with a "all inclusive package" :
cooking class with Chef Mathieu Vande Velde,
3 course menu,
water & wine selection!
Practical information : 
Welcome between 4 and 4:30 pm
4:30 pm : Welcome drink
4:30-5 pm : Briefing of Chef Mathieu Vande Velde
5 – 7pm : Cooking class
7pm : Tasting
Only on reservation – Maximum 16 participants
Information and registration : at +32 87 27 53 11 or via info@roannay.be
> Think of offering these cooking classes as "gift vouchers"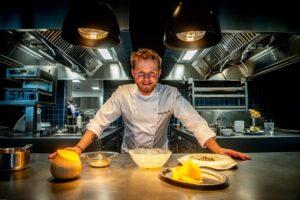 Booking & cancellation conditions:
Payment must be made at least 7 days before the cooking class
After this time, if you cancel more than 48 hours before, you will be offered a later date to replace your booking. We will not issue a refund.
In case of cancellation less of 48 hours before, 100% of the amounts shall be charged and it will not be possible to postpone it.